As an expert partner, with our comprehensive EUROGARANT body shop service we support you throughout the damage assessment and claims processing process. We can, for example, help you with claims reporting, help recover your vehicle, organise delivery of the vehicle, offer a collection and return service, and facilitate replacement vehicle rental.
Our advanced Audatex costing software means we can give you a rapid estimate for repairs to almost any vehicle. We'll provide you with a damage calculation based on objective manufacturer prices. Our vehicle database is updated monthly. We'll send the damage reports and cost estimate direct to the relevant administrator at the insurance company or lessor. This speeds up the decision-making process, enabling accident damage to your own or a third-party vehicle to be approved for repair even faster.
We keep a full digital photographic record of the claims and repair process. Advanced digital technology helps you and us to process your case rapidly and to your satisfaction.
WE ARE A EUROGARANT BODY SHOP
As a specialist Eurogarant body shop, we are a member of an elite group of around 600 highly qualified, certified independent body shops. This means we are recognised by many insurers and fleet operators as a partner specialist accident repair workshop. In addition, you can be sure of the highest quality repairsfor all makes and models of vehicle.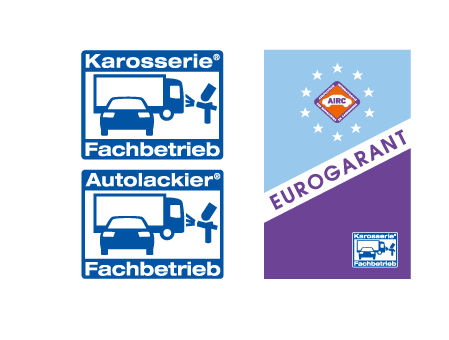 Key features of Eurogarant body shops:
– Extensively tested bodywork and automotive painting specialists
– Repairs carried out to manufacturer's specifications and guidelines
– Use of original spare parts
– Repairs are guaranteed for at least 3 years
– Quality standards are checked regularly
– Member of the Zentralverband Karosserie- und Fahrzeugtechnik (ZKF).
You can find lots of interesting information on vehicle bodywork and construction on the ZKF website for motorists.