We don't just talk team – we are a team. For us, work is more than just the daily trip to the workshop. This is where we can pursue our passion, encountering faithful souls and loyal companions along the way. We meet those people with open arms who have walked with us on our path, supported and further developed us on our way.
Our passion comes from our work, and you'll soon see that, with us, your vehicle is in the best possible hands. We'd love to get acquainted.

PATRICK STILLER
Dipl. Ing. | Managing Director
At the age of 8, he moved with his family from Poland to Germany. As a graduate engineer he worked at Airbus, primarily on developing the vertical stabiliser for the Airbus A380. During his time at Airbus, it became clear that Patrick is very much a craftsman at heart.
Today, he proudly continues the family tradition and in 2008 took over Joachim Paprotny's body and paint shop in Münster-Nienberge.
July 1979 | Freelance since July 2008
German | Polish | English
FA MATSUKO STILLER
The lady of the house
Born in Thailand, she makes sure her husband can concentrate on the business, and also takes care of business development and marketing. As a trained hotelier and travel agent her work has taken her all over the world, and has taught her that open, honest, transparent communication is the key to success.
She has lived in Münsterland with her husband since 2009.
March 1983 | Team member since 2009
German | Thai | English | French | Mandarin | Japanese


FA MATSUKO STILLER
The lady of the house
The first time you talk to her on the phone, you quickly realise that, for her, every customer is special. She always has time for everyone. Fa is responsible for office administration and deals with all personnel-related matters. Because she knows that together we can do more.
March 1983 | Team member since 2009
German | Thai | English | French | Mandarin | Japanese


ANJA CHRISTENSEN
Reception/administration
Whether it's telephone calls, talking to customers, claims handling, bookkeeping or ordering, her to-do list is long and varied. No two days are alike, and this, alongside the family atmosphere, is why Anja is so happy in her role of keeping everything running smoothly. That and perhaps a little Fa's incredible curries too!

TONI WINKLER
Office management trainee
Toni has been supporting the management team with everything that needs doing in the office since August 2020. He loves the day-to-day variety and enjoys working as part of a team. When he's not at work, his element is water, and he loves swimming, playing water polo and working as a volunteer fireman.
January 2005 | Team member since 2020

CARLA ROCA ARAUZ
Praktikantin Bürokauffrau im Büromanagement
Ihre Sprachtalent ist unverkennbar und es wird nur eine kurze Zeit dauern, bis auch die Deutschkenntnisse super sein werden. Carla hilft im Büro aus und vermittelt sich so einen Eindruck, was es bedeutet, eine Ausbildung zur Bürokauffrau im Büromanagement zu machen.
Juni 2004 | im Team seit 2022
Spanisch | Englisch | Koreanisch | Deutsch

PATRICK STILLER
Dipl. Ing. | Managing Director
Even as a child, as soon as school was over he would be heading for the workshop. Anyone who knows him knows that in the workshop in a pair of overalls is where he feels most at home. He loves getting stuck in when needed, but also knows that he can always rely on his team. His work is his passion, and even his own personal family vocation.
July 1979 | Freelance since 2008
German | Polish | English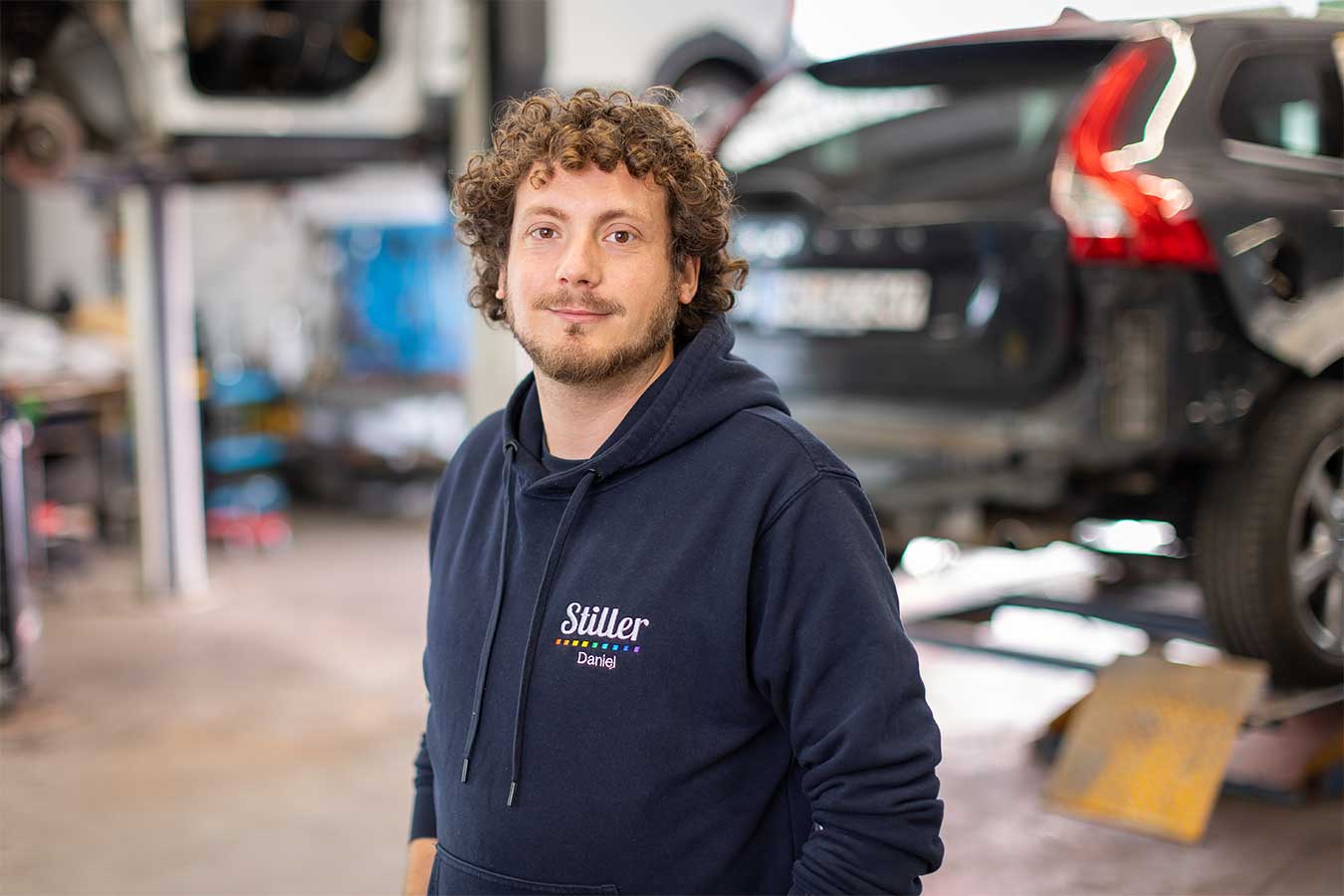 DANIEL RODRIGUEZ CASTELLAR
Automotive painter
Neben seinen Aufgaben als Fahrzeuglackierer arbeitet Daniel dank seiner Vielseitigkeit auch in der Karosserievorbereitung. Auch hier zeigt er seine zahlreichen Talente. Für ihn ist seine Arbeit mehr als nur ein Job und für das Team dank seines südländischen Charmes eine wahrliche Bereicherung und ein Ruhepol zugleich.
Dezember 1990 | Im Team seit 2021
Spanisch | Englisch | Deutsch

DUARTE MANUEL DA COSTA DIAS
Automotive painter
Duarte ist seit seinem 17. Lebensjahr in der Fahrzeuglackierung tätig und hat dementsprechend viel Erfahrung vorzuweisen. Er ist von früh bis abends da, geht sehr verantwortungsvoll und mit viel Herz an seine Arbeit. Seine Devise lautet: erst wenn die Arbeit getan ist, gehe ich nach Hause. Unser "Big Papa"!
August 1968 | im Team seit Juli 2021
Englisch | Portugiesisch | Spanisch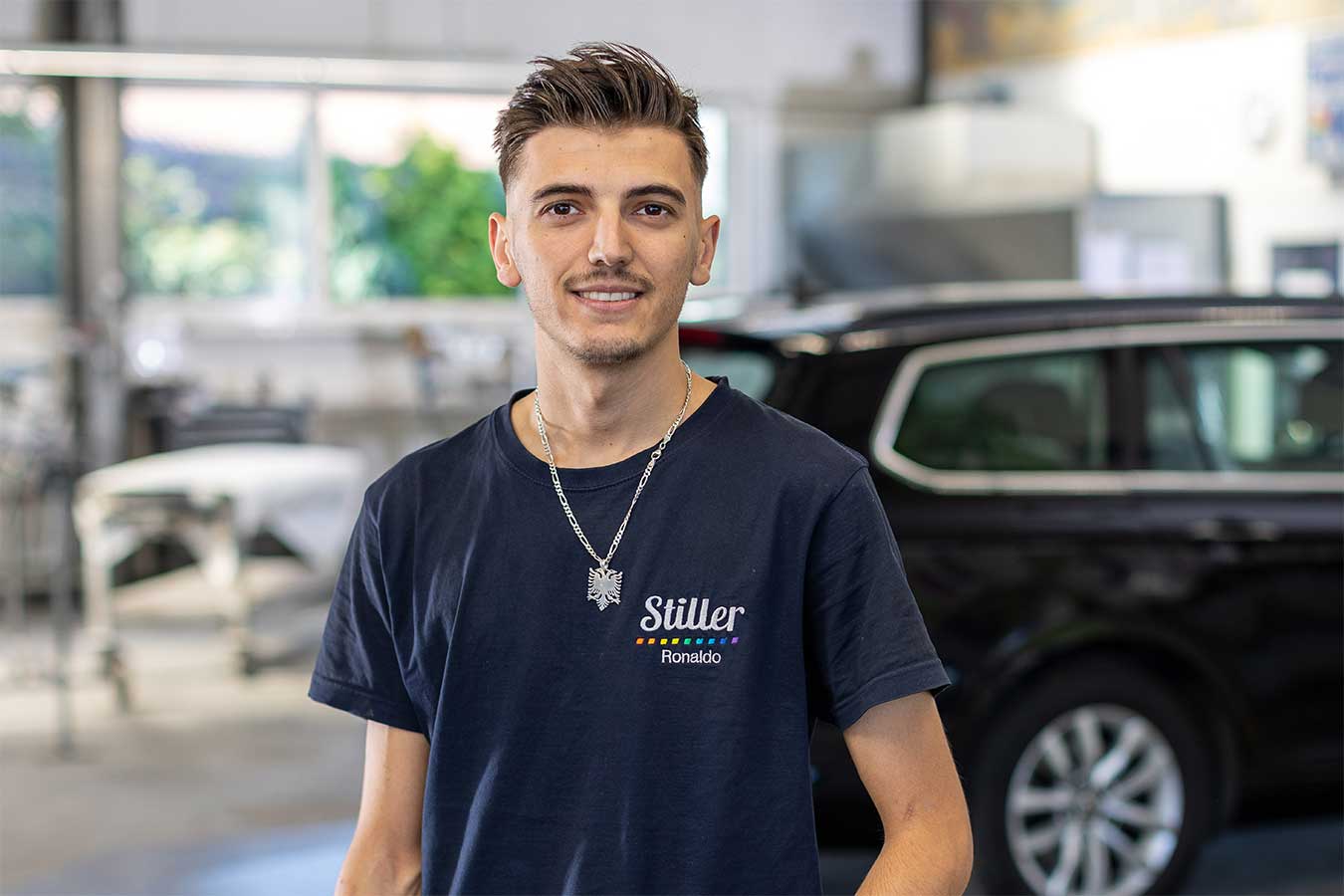 RONALDO RRYTA
Coachbuilder
Originally from Albania, whether he's welding, assembling, dismantling or carrying out repairs Ronaldo loves his work. And no wonder, because in his free time cars (the faster the better) are also his hobby. He joined Stiller at the tender age of just 17.
August 2000 | Team member since 2017
German | English | Albanian

DAMIAN URBANSKI
Automotive painter
His main focus is on preparing vehicles for painting, an area which demands precision and attention to detail. Not a problem for Damian, originally from Poland, who has been a team member for two years. He loves the variety of vehicle models and colours.
January 1988 | Team member since 2019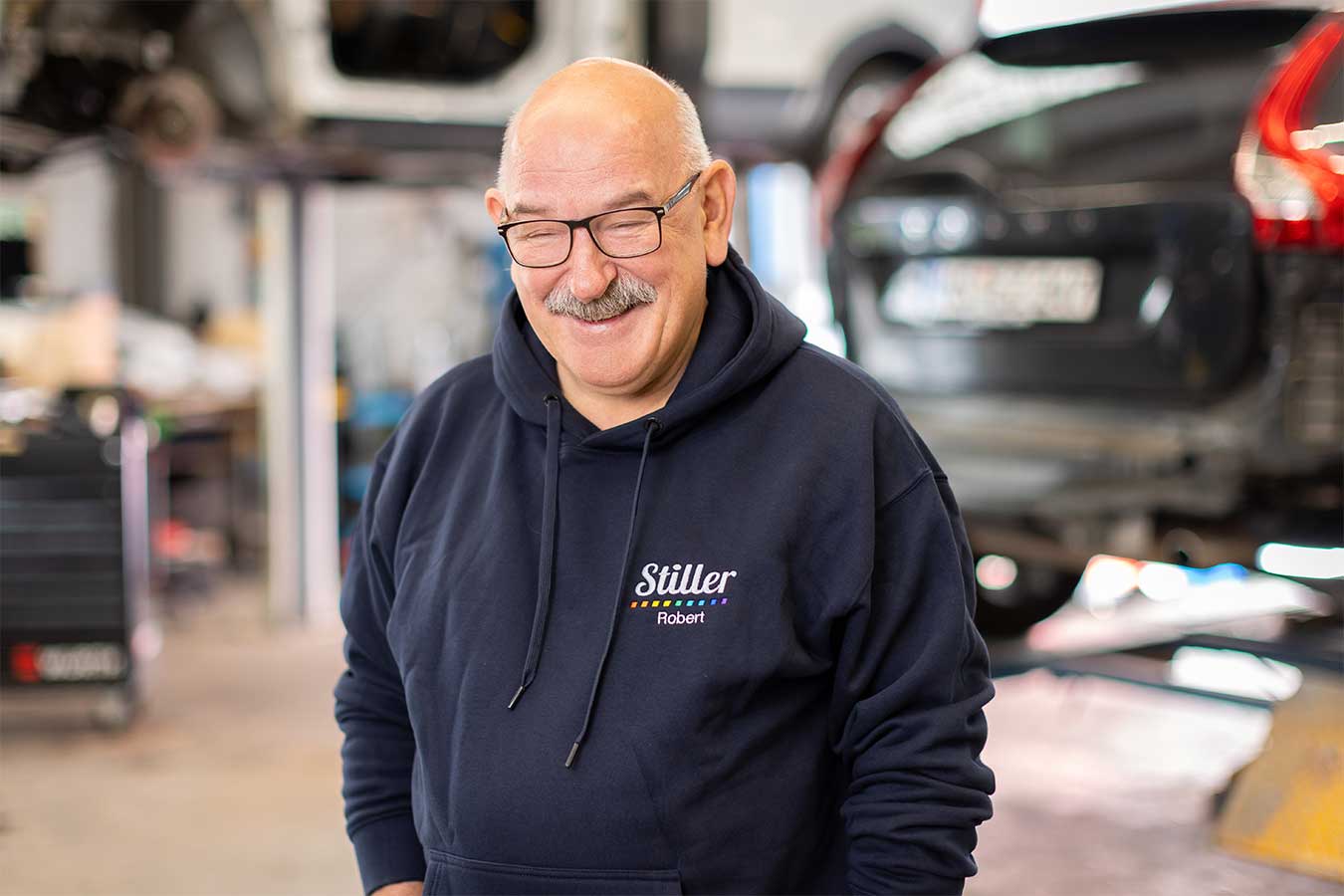 ROBERT MAREK SOLECKI
Automotive painter
The 58-year old has an immense amount of experience, which stands him in good stead when it comes to preparing vehicles for painting. Originally from Poland, Robert's finesse and taste are equally evident in his kitchen, where he makes foods such as cheese and pickled herring, or when beekeeping.
February 1963 | Team member since 2017


RUI MIGUEL TOMAS FILIPE
Coachbuilder
Dismantling, repairing and then reassembling – nothing gives Rui, originally from Portugal, more pleasure. It doesn't matter if it's a contemporary vehicle, a classic or a modern classic, or even in miniature format when model making in his free time.
September 1981 | Team member since 2017


KUJITIM HOSHJA
Standby and maintenance man
His talent lies everywhere, so it's no wonder that Kujitim is to be found in every corner of the workshop. To unwind after work, the 35-year old enjoys nothing more than nature, whether on his travels, in his garden, at a nice barbecue or beekeeping.
January 1986 | Team member since 2019

LUIS CÉSPEDES
Springer in der Lackierung und Karosserie
Ebenso wie seine Schwester Ysabel verfügt auch Luis über vielseitige Talente, die er in der Fahrzeugaufbereitung sowie in der Vorbereitung für die Karosseriebearbeitung und Lackierung einsetzt. Er sprüht nicht nur vor Energie, sondern vor allem versprüht er stets gute Laune. Mit seiner professionellen Einstellung ist er ein Gewinn für das gesamte Team.
Januar 1968 | im Team seit 2022

OREST MURIN
Trainee automotive painter
A trained automotive mechatronics technician, Orest is currently receiving further training in automotive painting, and is therefore working both here and in the body shop. The varied nature of his work helps drive him on, as do his fantastic workmates.
November 1996 | Team member since 2020

German | English | Romanian | Ukrainian | Russian | Polish


LUCIUS BERGHOFF
Trainee coachbuilder
The newest member of the team, working on cars has long been his passion. Turning his hobby into a career really wasn't a difficult decision. The team and the varied nature of the work at Stiller quickly convinced the 19-year old to start an apprenticeship as a coachbuilder.
February 2002 | Team member since 2021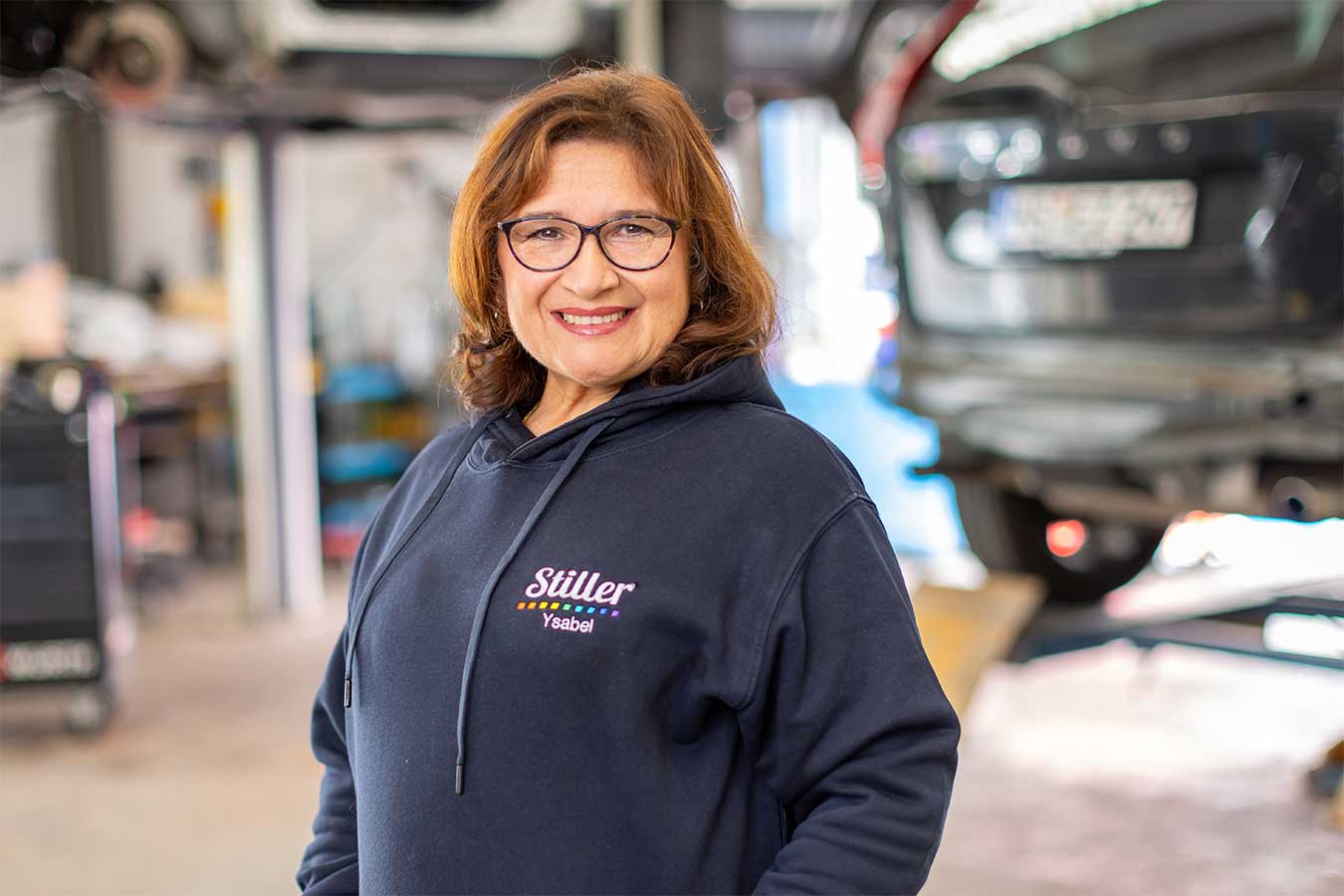 YSABEL CÉSPEDES
Fahrzeugaufbereitung
Mit ihrer Fürsorge und ihrem handwerklichen Geschick ist sie ein wahres Multitalent und wird liebevoll als "Big Mama" bezeichnet. Ihr Augenmerk gilt neben der Fahrzeugaufbereitung dem Hof, sie sorgt dafür, dass alles an Ort und Stelle ist und zudem verschönert sie alles mit wundervollen Blumen. Für das gesamte Team hat sie stets ein offenes Ohr.
Juli 1965 | im Team seit 2021